Motorola Service Elite Specialist


The Motorola Service Elite Specialist Partner (SES) is the highest level of service relationship attainable by a Motorola Service Channel Partner and it represents the greatest level of Motorola/Servicer agreement and interdependence.
ETA Certified Service Center


The Certified Service Center (CSC) program is designed as a tool to help consumers find quality service centers, to help electronics and appliance manufacturers select service centers for in-warranty repairs, and to provide a standard for professional service firms that desire to offer outstanding customer service.
BROWZ Contractor Compliant


BROWZ ensures contractors are safe, qualified and socially responsible by delivering comprehensive solutions to prequalify, assess, and monitor compliance based on the unique needs of your business.

Virginia DPOR Licensed Class A Contractor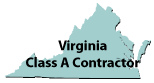 The Board for Contractors licenses businesses engaged in the construction, removal, repair, or improvement of facilities on property owned by others. Contractor licenses consist of two parts: the class of license (A, B, or C), which determines the monetary value of contracts/projects that may be performed, and the classification/specialty, which determines what typeof work is allowed.
Better Business Bureau Accredited


BBB accreditation determines that a business meets the Better Business Bureau accreditation standards, which include a commitment to make a good faith effort to resolve any consumer complaints. BBB Accreditation is built on the BBB Standards for Trust, eight principles that summarize important elements of creating and maintaining trust in business.
Technician Certifications
RCV strives to provide the highest level of expertise to our customers. As such, we continually train and keep our team up to date with the latest evolutions of the industry. Our technicians have achieved numerous certifications from multiple industry leading associations.