No matter what industry you work in, you need a way to communicate with staff members, and sometimes, those staff members may not always be closely located. WavE™ OnCloud is a broadband push-to-talk subscription service from Motorola Solutions.
Take push-to-talk further with WAVE™ OnCloud! Contact Radio Communications of Virginia for assistance near the Richmond, Tidewater, or Southside, VA areas.
About WAVE™ OnCloud Nationwide PTT
WAVE™ OnCloud Nationwide PTT combines the broad coverage of a nationwide cellular network with the ease of two-way radio communications. Plus, it maximizes coverage, connections, and productivity without the need to expand existing infrastructures.
With WAVE™ OnCloud, you have a way to connect across multiple platforms. Whether it's your LTE- or WiFi-enabled radios, mobile phones, tablets, or computers, you will be able to communicate farther than ever before with just a push of a button.
WAVE™ OnCloud's online portal allows you to manage your channels and subscriptions in real time. Need to quickly add another channel on the fly? With the ability to update an entire fleet over the air, there is no need to touch a single device when reprogramming is needed. Easily add or remove subscriptions right from the cloud-based platform. Self-service billing allows you to scale subscriptions based on your workload providing the ability to add or remove devices as you need them.
Motorola TLK Series Nationwide LTE Push-to-Talk Radios
Get all the benefits of WAVE™ OnCloud with a rugged two-way radio. With added features like WiFi connectivity, location tracking, and private and emergency calls, the TLK series radios are purposely built to meet every business's communication needs.
These two-way radios are ideal for a variety of industries, including:
Everything about the TLK Series two-way radios is smart and intentional.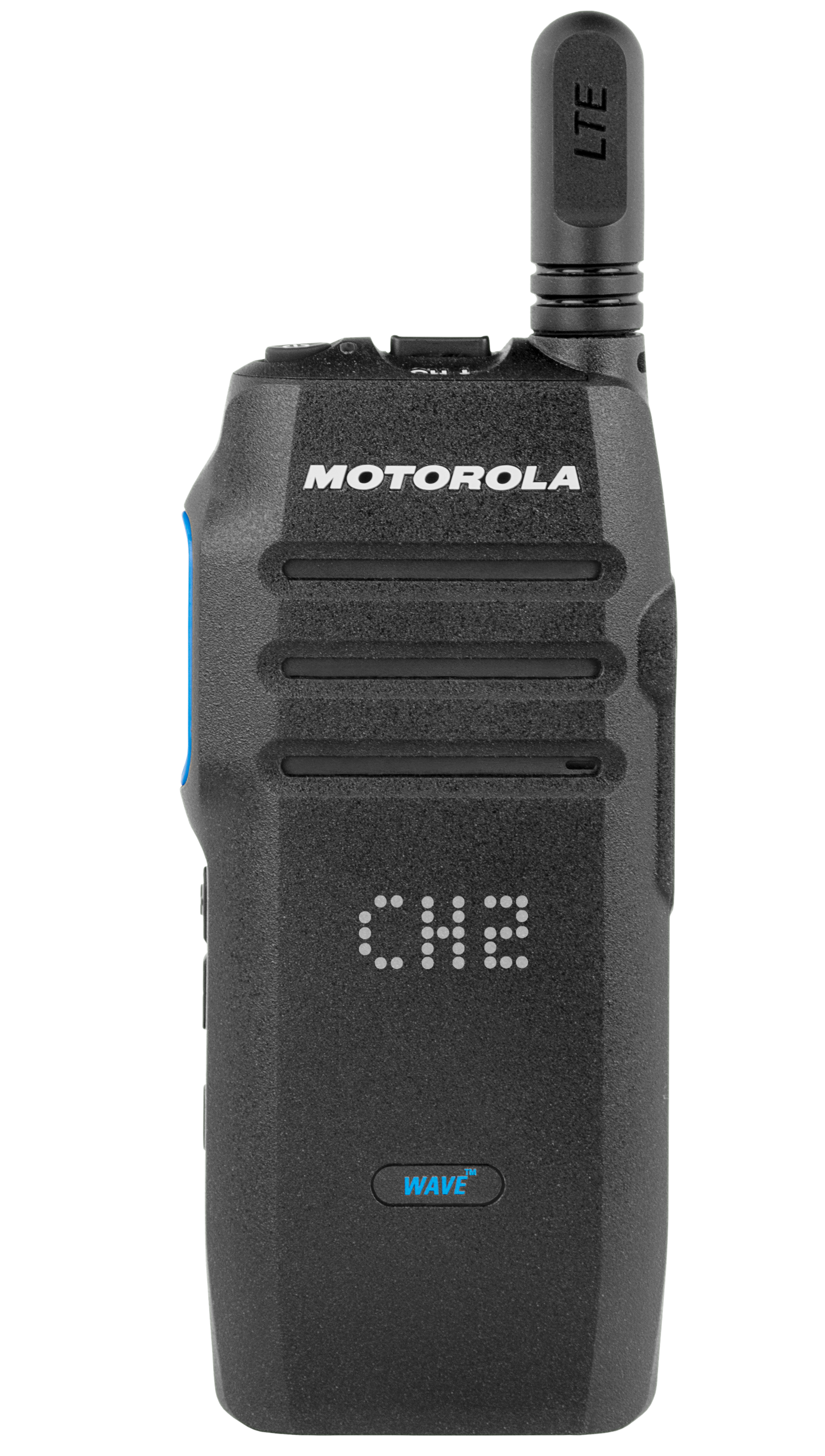 With a slim design that's durable, easy to carry around, and has long-lasting batteries, the TLK 100 ensures messages come through loud and clear, day in and day out.
Here are more benefits to TLK 100 two-way radios…
Powerful and compact design: Because this streamlined device allows for one-handed use, you can move from the field to the office seamlessly. Plus, the audio will come in loud and clear so you can easily hear conversations in noisy environments.
SL300 accessory-compatible: TLK 100 two-way radios can be paired with earpieces, headsets, batteries, charging stations, and other Motorola SL300 accessories to help leverage your prior investment.
Long battery life: These radios are built to last 18 hours—giving you power when you need it most. As a result, you can complete any project without the need to recharge your device.
Screenless design: By minimizing distractions from emails, texts, and other apps, your team can focus on the job at hand and maximize productivity.
TLK 150 Mobile Two-Way Radios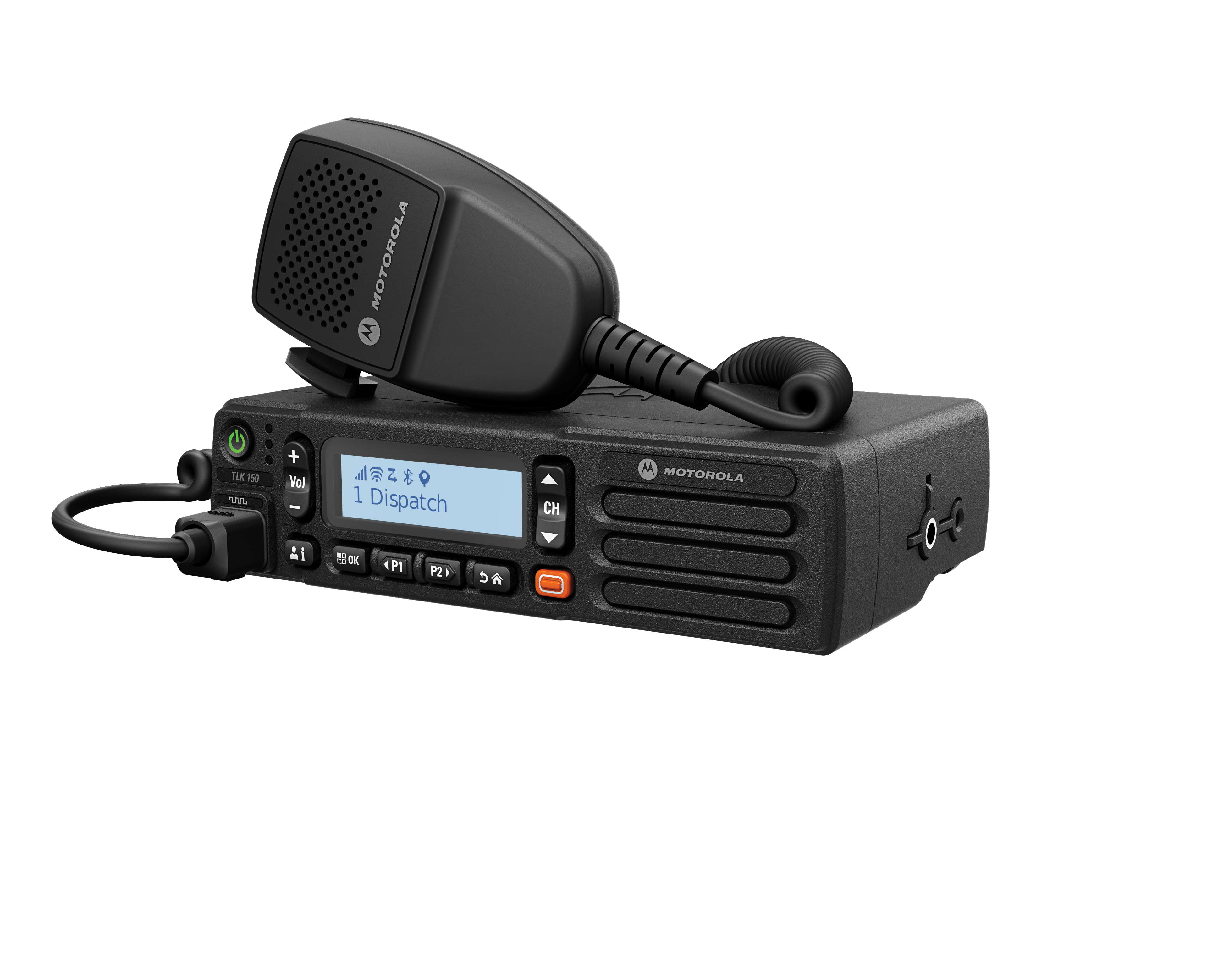 Many transportation and logistics industries rely on their fleets to deliver goods and services quickly, keeping businesses and customers happy. While it's crucial to maintain productivity, it's just as vital to keep your teams safe and connected at every turn.
Commercial drivers can push to talk on a TLK 150 radio to instantly send out a message without any distractions. By utilizing these TLK 150 radios, your communication stays strong while on the road to ensure continued success.
There are even more advantages to these mobile radios, such as…
Safely operate in vehicles: The one-button PTT microphone or other hands-free accessories can be used to operate your radio safely on the road. Plus, you'll stay within Federal Motor Carrier Safety Administration (FMCSA) regulations for driver distraction.
Top-quality audio: Whether communication is through the radio's compact microphone, visor microphone, or external speaker, you can hear conversations clearly while driving.
Compact design: They're small enough to mount over, in, or under a vehicle's dashboard. Additionally, Motorola XPR 2500 mounting kits can extend the value of your previously purchased radios.
If you're looking for an advanced two-way radio or walkie talkie, you can look toward the TLK Series radios from Motorola Solutions.
Learn More About Motorola WAVE™ OnCloud and TLK Series Radios Today
If you're interested in learning more about the TLK Series two-way radios or the WAVE™ OnCloud solution, the team at Radio Communications of Virginia can help.
With over 100 combined years of experience, we know the ins and outs of instant communication tools and technologies. Plus, our technicians are continually trained and receive certifications on various aspects of this industry. Therefore, you can trust that they'll match you to the two-way radios or walkie talkies for your business.
To get started, contact our company near Richmond, Tidewater, and Southside, Virginia. We look forward to working with you.