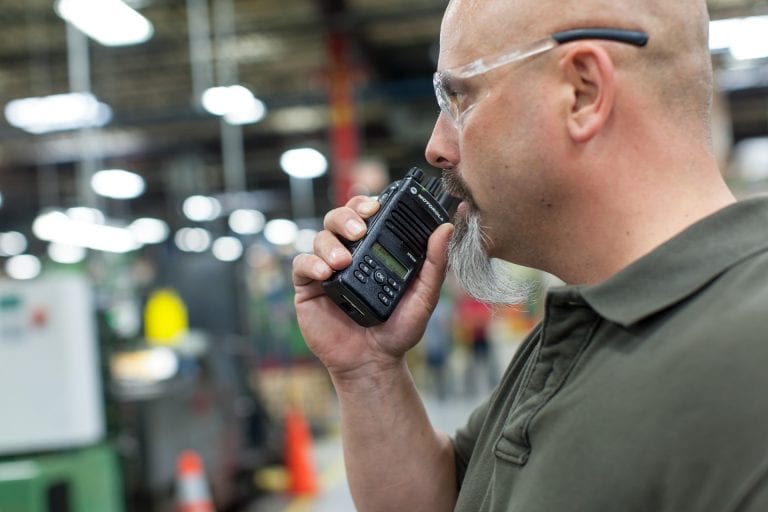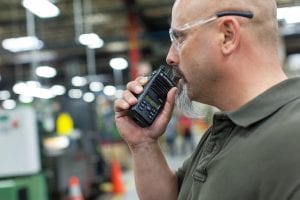 The manufacturing industry involves intricate operations that require a close level of detail necessary to promote productivity and maintain worker safety. That's why it's key to have proper communication systems in place. At Radio Communications of Virginia, we can provide the products you need to achieve consistent manufacturing success.
Motorola Two-Way Radios for Manufacturing
Two-Way Radios For Production Facilities
View Our Available Products and Accessories
All About the Manufacturing Industry
Technology is becoming more automated and advanced. Manufacturers need to reinvent the way they create, operate, and innovate to keep up.
According to a Motorola study, almost 45% of plant operators said that "clarity and coverage of communications" is their top challenge. That makes sense, considering how loud and chaotic a factory floor can be. If you don't have a reliable communications system, it can compromise both security and operational efficiency.
In addition, manufacturers need strategies to stay competitive, whether it's to fill job positions or customer orders. Overall, they want an integrated communications platform that can help them:
Increase workforce productivity
Improve worker safety
Reduce downtime
A cornerstone of the best communications systems? Two-way radios. Keep reading to see how upgrading your communications technology can benefit you.
How to Run a Successful Manufacturing Operation
To have a thriving manufacturing operation, you need a way to effectively communicate with your employees, no matter where they are on the floor. Since manufacturing facilities are often very large, one of the best ways to facilitate communication is with two-way radios.
You also need to address any potential stalled production lines quickly. If there's an equipment failure from malfunctions or aging machines, then it could lead to expensive disruptions. The longer it takes for personnel to respond to issues and repair equipment, the more damaging the interruption can be.
That's another reason why two-radios can be very beneficial. By using real-time communication systems, you can mitigate these risks. They also allow you to be more proactive, relaying the right information to the right people.
How Two-Way Radios Benefit Your Manufacturing Business
If you need instant communication among your employees, then you may want to consider two-way radios.
With the simple push of a button, you can distribute important information and delegate tasks throughout your entire operation. This eliminates errors that can interfere with production.
For example, you may have a machine malfunction while trying to complete rush orders. If you have a digital two-way radio, you can send and receive instant alerts that something is wrong.
Use push-to-talk to instruct maintenance to get the machine fixed. You'll hear everything clearly over the loud background noises. Then, you can issue a work order ticket to maintenance, communicate the delay to the entire power plant, and request tools and parts needed for the repair—all from your digital radio.
This is just one of the many ways that two-way radios from Motorola can be a great help to your manufacturing plant's day-to-day operations.
Two-Way Radios Can Improve Safety
In addition to increased productivity, there's also an increase in safety when you have instant, streamlined communication.
According to OSHA, some of the most commonly cited safety violations in workplaces around the country involve falls, respiratory protection failures, and scaffolding issues—all everyday realities for people who work in the manufacturing sector. With the immediate one-touch talk functionality of two-way radios, you can alert others to unsafe conditions before they escalate.
Safety extends beyond employees in the production space, too. It should include the safety of anyone who comes and goes throughout the day: prospective clients, lunch deliveries, contractors, and more.
Keeping everyone connected with instant, one-touch talk reduces downtime and prevents injuries. Two-way radios make operations safer, faster, and in turn, more effective.
Motorola Two-Way Radios for Your Manufacturing Business
We proudly partner with Motorola Solutions, one of the leading manufacturers of durable, high-quality two-way radios. We outfit manufacturing businesses just like yours with popular radios such as these:
For managers, we often recommend that they balance the demands of the production floor and the boardroom with the SL 7550e. This slim, lightweight radio has digital and analog capability, along with work order ticketing and indoor location tracking.
The XPR 7350e is a great fit for employees who work on the manufacturing floor. This radio has enhanced audio quality for communicating clearly, even when surrounded by loud machinery. Plus, a built-in accelerometer enables the Man Down feature to automatically call for help if it senses the wearer has fallen.
Need a portable two-way radio that can do it all? The MOTOTRBO™ Ion Rugged Commercial Smart Radio is a device that can help every department. With work order ticketing, keep track of issues as they come up. You can also scan barcodes to monitor inventory, and integrate video surveillance images and alerts.
However, the most impressive thing about this smart radio isn't its intelligence, but its strength. It's the only touchscreen commercial smart radio that is rated Intrinsically Safe—a must-have for dangerous work environments. This means that even when exposed to high temperatures, electric currents, and volatile chemicals, it will not catch fire or ignite.
For added protection and efficiency, many operations also opt for safe accessories, like over-the-ear, heavy-duty headsets!
In-Building Signal Boosters: Consumer and Commercial BDA/DAS Solutions
Two-way radios help provide instantaneous, real-time communication. However, in some instances, in-building signals cannot travel through thick building materials or reach more secluded areas, like stairwells and basements.
In-building signal boosters can help. There are a few ways to increase signal strength, and one of the most common is with BDAs, or Bi-Directional Amplifiers. By placing these antennas throughout a building, you'll extend your signal range, so every inch of your facility is covered.
Another way to ensure coverage and capacity for everyone in your facility is to employ a DAS, or Distributed Antenna System. A DAS uses an external receiver to capture signals—either radio or cellular—and then distributes that signal to amplifiers throughout the building.
Legal Requirements for Connectivity: Public Safety BDA/DAS
In many jurisdictions, local ordinances require enterprises to install public-safety-specific in-building signal boosters. If that's the case, then we will work with local authorities to ensure your connectivity solutions are up to code.
In case of an emergency, first responders cannot afford to lose connections with one another, which is why regulatory bodies such as the National Fire Protection Association and the International Fire Code have connectivity requirements in place. In critical areas like fire pump rooms and stairwells, your building must guarantee almost-perfect coverage.
Making the Most of Your Communications with Integrated Infrastructure
Once you have your two-way radio fleet in place, your earpieces on, and your signals boosted, it's time to make the most of it all by bringing all that technology under one umbrella.
A 2021 manufacturing survey from Motorola Solutions found that 90% of workers use more than one device to communicate while on the job. Throughout the day, people are turning to two-way radios, computers, smartphones, and more to get in touch with one another. What's the best way to keep all those channels interoperable? Wireless integration.
Wireless Access Points
Since 90% of employees are using more than one device, Wireless Access Points, also called Access Points, or AP for short, can make sure everyone gets the connection they need. An AP is a hardware device that allows for other Wi-Fi devices to connect to a wired network.
For instance, an AP makes it possible for smartphone users to connect to the same wired connection as the desktop computers in the building, even though a smartphone can't connect via an ethernet cable.
AP benefits are twofold: One, wired internet connections are much more secure than Wi-Fi connections, so connecting wireless devices to wired internet keeps proprietary information safe. Two, utilizing AP makes it possible to extend internet coverage in larger, older, or otherwise hard-to-wire buildings.
Including AP in your wireless integration solution means that visiting clients can connect to your secure system from their own laptops, tablets, and phones. It also makes it easier for your business to incorporate more wireless technology into your communications fleet in the future.
Safe Data Storage
We all know that safety is important. That's why two-way radios on the manufacturing floor are so helpful.
However, safety also extends beyond the manufacturing floor. After employees, the most important thing to keep safe is your data. When all your data is under one umbrella, it's much easier to safeguard.
Think about it: Business records include clients' addresses and payment information, proprietary research and development plans, the Social Security numbers of employees—the list goes on. A serious data breach can shut down production.
As part of a wireless integration plan, your business can connect all its devices to ensure interoperability, and it can also store all that shared data securely using cloud-based storage. Essentially, this allows you to store information online instead of in one fixed physical location.
How does this help? For one, when data isn't tied to one physical location, like a hard drive or in-house server, it's harder to break into.
Ensure Phishing Expeditions Can't Hook Your Business
Internet provider Verizon performs an annual Data Breach Investigations Report and found that for 2021, 36% of breaches involved phishing. Phishing is often a cleverly disguised email that prompts a recipient to click on a link that downloads malware. If a business's sole servers are infected, then all that data is compromised.
Cloud-based storage, which is also encrypted, adds an extra level of protection by circumventing a fixed physical location. Plus, when working from home is more common than ever, cloud-based data storage makes it possible for authorized employees to access information remotely.
Improve Your Manufacturing Business with Two-Way Radios and More
At Radio Communications of Virginia, we know that it takes streamlined operations and collaboration to run a manufacturing business efficiently. If it's time for your operation to receive some upgrades, reach out to our experts! We have decades of experience in equipping teams with the most reliable two-way radios, as well as the infrastructure needed to make the most of their capabilities.
Don't wait. Request a quote today!